I called this "Wasteland Logan" Considering I did some cool stuff before I wanted to do something different. I just got in a land diorama from Soulgear216 and this was something pops in mind as Logan traversed the wastelands. The shirt really make the brown duster pop and it's a color scheme i personally love (red and brown) it flows wonderfully and even more so it works well in almost all colors. This was something that really made the old man Logan figure 1000000x better.
Here is someone who is struggling with her identity and desperately trying to define who she is by reaching into the past while simultaneously believing there is a path in front of her to something larger than herself. She's uncertain. Afraid even. Despite these conditions and the harsh winds that violently whip her cloak in every which way, there is a moment when the sun peaks through the clouds to balance it.
I like to convey emotion in my photography because I think relatability is an important factor in how it's experienced. With that in mind, I began to pose Rey in a moment where she is preparing herself physically to meet her destiny. The more interesting component to it for me was the attempt to evoke emotion by suggesting a mental and emotional conflict within the character as well.
One of the things I was looking forward to while setting up this shot was posing the cloak that Rey was wearing in the photo. It's an incredible accessory created by CJESIM that exudes quality and craftsmanship and adds a greater depth to any collection or photo. Nothing speaks more to their products than the simple smile you get from seeing them in hand. The CJESIM products can easily be considered an extension and upgrade to any figure. That's facts!
Photographer: @noserain
Much of the inspiration for this was taken from all the fantastic toy photographers in the community and who are adept in lighting. I am still very much a novice and I've been trying to experiment with different lighting techniques and so this is a product of experimentation.
For this picture, I wanted to create a "night time" scene, but to make sure I maintained the color integrity of the figure because it's so vibrant. The CJESIM cape, not only is it well crafted with beautiful material, helped with the stance I was looking for with the Scarlet Witch and I was very pleased with the final image.
Photographer: Adarknovember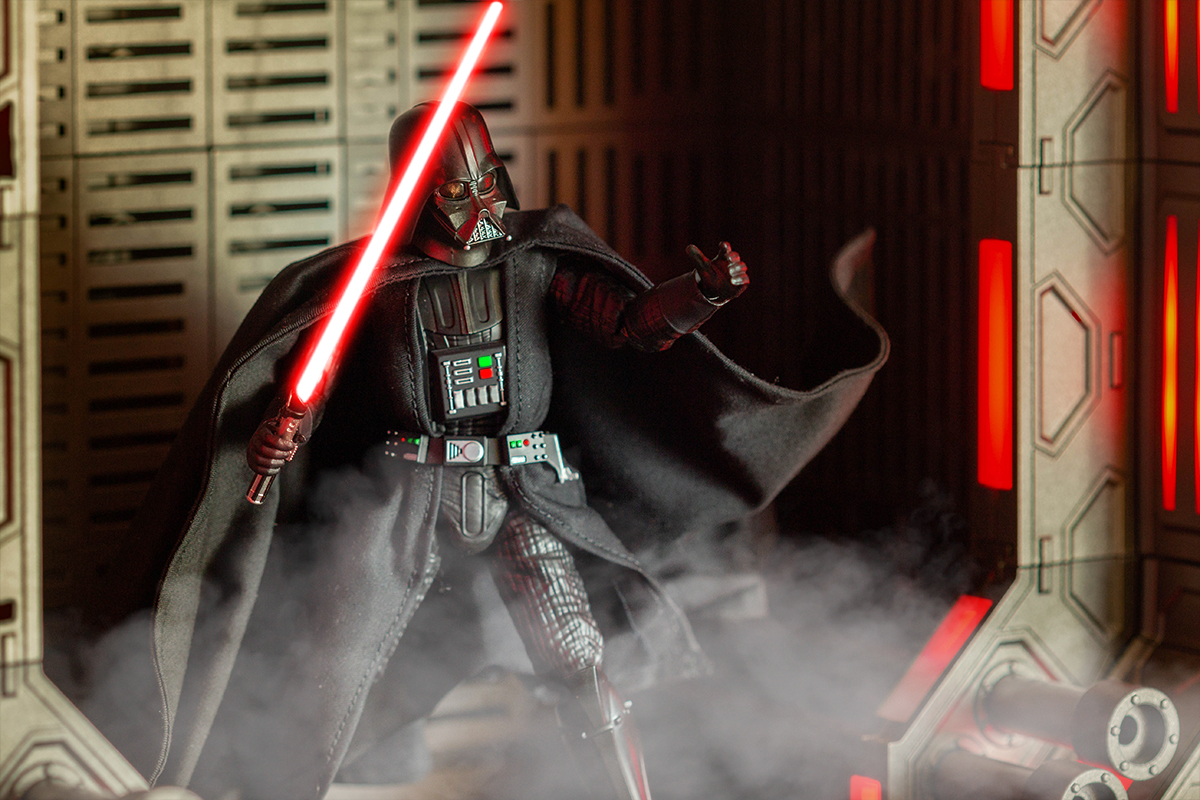 As far as my inspiration, I'm sure you'll laugh, but I was trying to capture where I think he would be at middle age. As I've gotten older, I have had things that I thought were part of who I was eroded by the ever pounding shoreline of time.
Now I'm thinking, what would he be thinking? Would he have realized he had made a mistake, and why he was constantly searching for an apprentice, to overthrow The Emperor? Would it be to make up for his actions, or because he just felt he could be more efficient? Did his hatred towards Obi Wan dissipate, only to be replaced by his hatred of self? Did he mask his sorrow with hatred for himself when speaking to The Emperor?
However, I think one of the most coveted things I have gained via rotations on this planet is an intense sense of when I am being lied to.
As Anakin grew wiser, did he carry with him a rage, KNOWING he lost everything for a lie? That he had been turned into just another weapon under The Emperor's command?

So this Vader is confident only in his hatred and uses it to channel an iron will that will see the Galaxy recreated in his vision. One day.
Or I just wanted to take a cool Vader shot.
Probably a little of both.

I used my Canon Rebel Ti5, with my microlens/Tripod. The lighting seen here is the Nova Ubiquitous set to red, with a light diffuser umbrella off to the right.
From there into Lightroom to give the RAW file some life, then finally effects in Photoshop as well as optimization.
Extremely impressed at the level of craftsmanship and the seamlessness in which it integrated with the Figuarts figure.
Photographer: @toyswithtude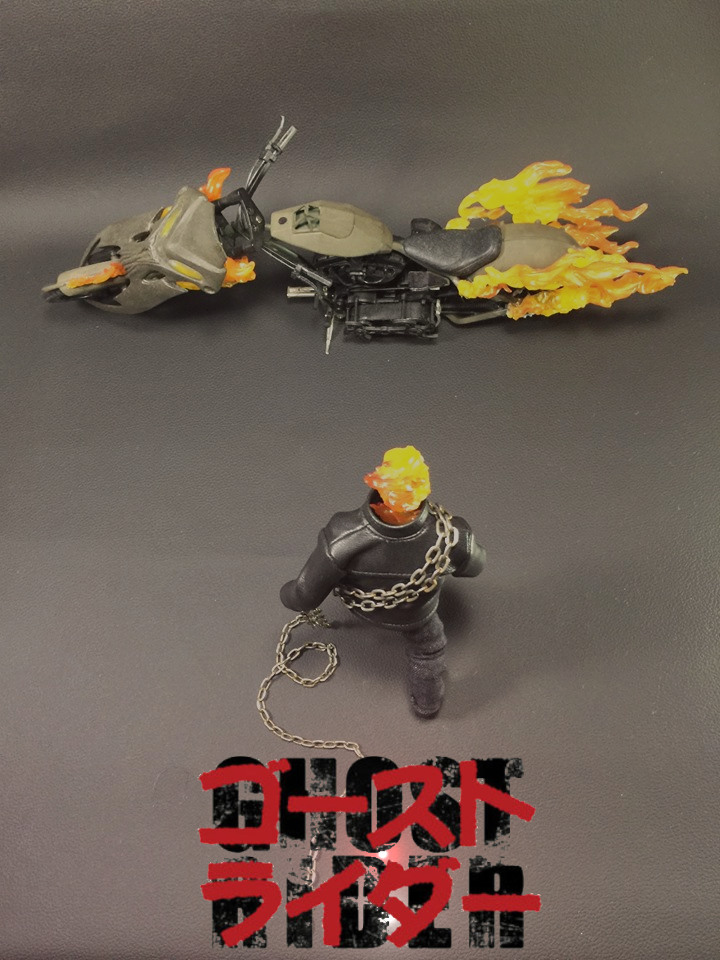 "Kaneda, The Spirit of Vengeance"
Well, I build this custom figure and bike from scratch, tried to gather everything together and build up the ghost rider I always wanted to have. So when i finally did i was like : " It's about damn time to take some picture of it!". To be honest, at first, I wasn't even thinking about making a mashup between Ghost rider and Kaneda, from Akira, I was just taking some pictures in a matte black background when I posed it in a way that felt just like Kaneda on it's cover picture and i my mind just blew! I searched and found some drawings of it and i was: "Let's do this!"
Well, now i'm thinking, what would be if the spirit of vengeance found his way through dimensions and different universes to take Kaneda's body and use it to change all Akira's history as we know, what would happen, would Kaneda survive all this madness brought upon his body and life, would the spirit of vengeance be able to use Kaneda's body or was just a temporary host until it finds it's true destiny?

Anyway, you can come up with dozens of stories and it would still be lots of questions to answer. Maybe Jhonny blaze just travelled to another universe and killed everyone, who knows?
I used my humble Iphone 6 plus to make that image come to life, along with 4 led lights so there wouldn't be dark spots on the image.
A few photoshop additions: I darkened the image a bit so it would look less bright, added the title and some lights to the same, and voilá!
Oh, I loved everything! The material, the details, and it really fits perfectly!
Photographer: @eddie_mustaine
Dr Doom is one of my favorite characters in comics. He is very complex. For example; he strives to attain ultimate power, only to free his mothers soul from Mephisto's control. He can be merciless, as well as compassionate. You know when he shows up, its about to go down.
I was in the process of making a custom dr doom when I saw the talented people at Cjesim custom clothing made a dr doom outfit and knew I had to have it. The wired cloak and hood, with the metal accents are so nice it actually made me want to take this custom to the next level and use a base body that has tons of articulation, and more of a Mezco look all around. And this was My result.
The focus of this shot was to show off the fantastic custom soft goods, as well as the new body. I was going for Dr DOOM showing up, clenching his fist, and getting ready to kick some superhero butt. shot on my LG V30.
Photographer: @danno_figs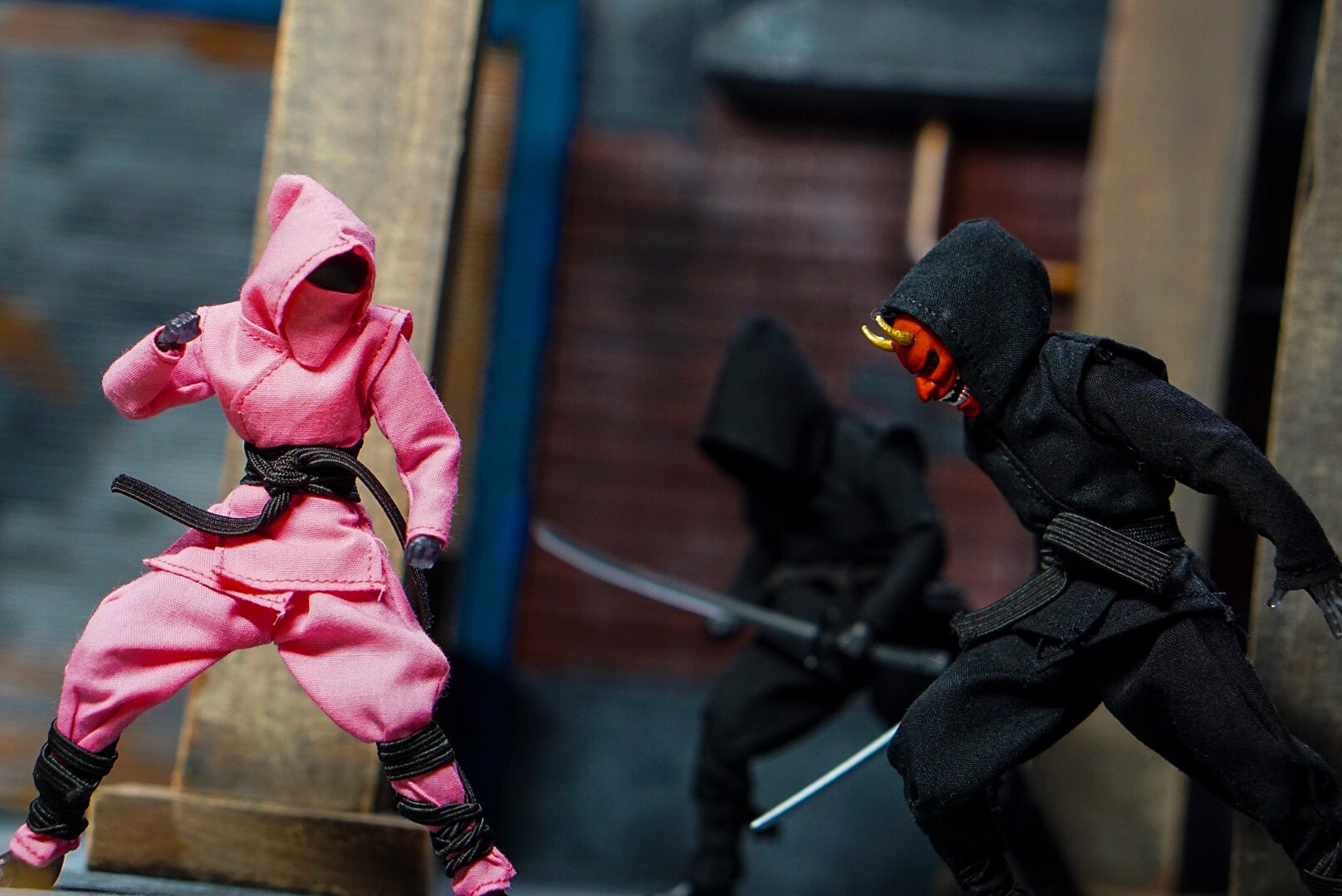 "The Kunoichi vs The Oni"
The picture is entitled "The Kunoichi vs The Oni". The Kunoichi (Japanese for female ninja) fights her opponent a ninja wearing an Oni (demon) mask. I chose this picture because the pink ninja pops out in any picture. A pink ninja is what your eyes first focuses on when looking at the picture. The picture also tells the person viewing it, that the main character is a female who not only has the odds against her but takes the fight head on. You don't see many ninjas out in the toy market, so to be able to customize your own ninja with a variety of colors definitely enhances your toy photography.
Photographer: @alohaamigo1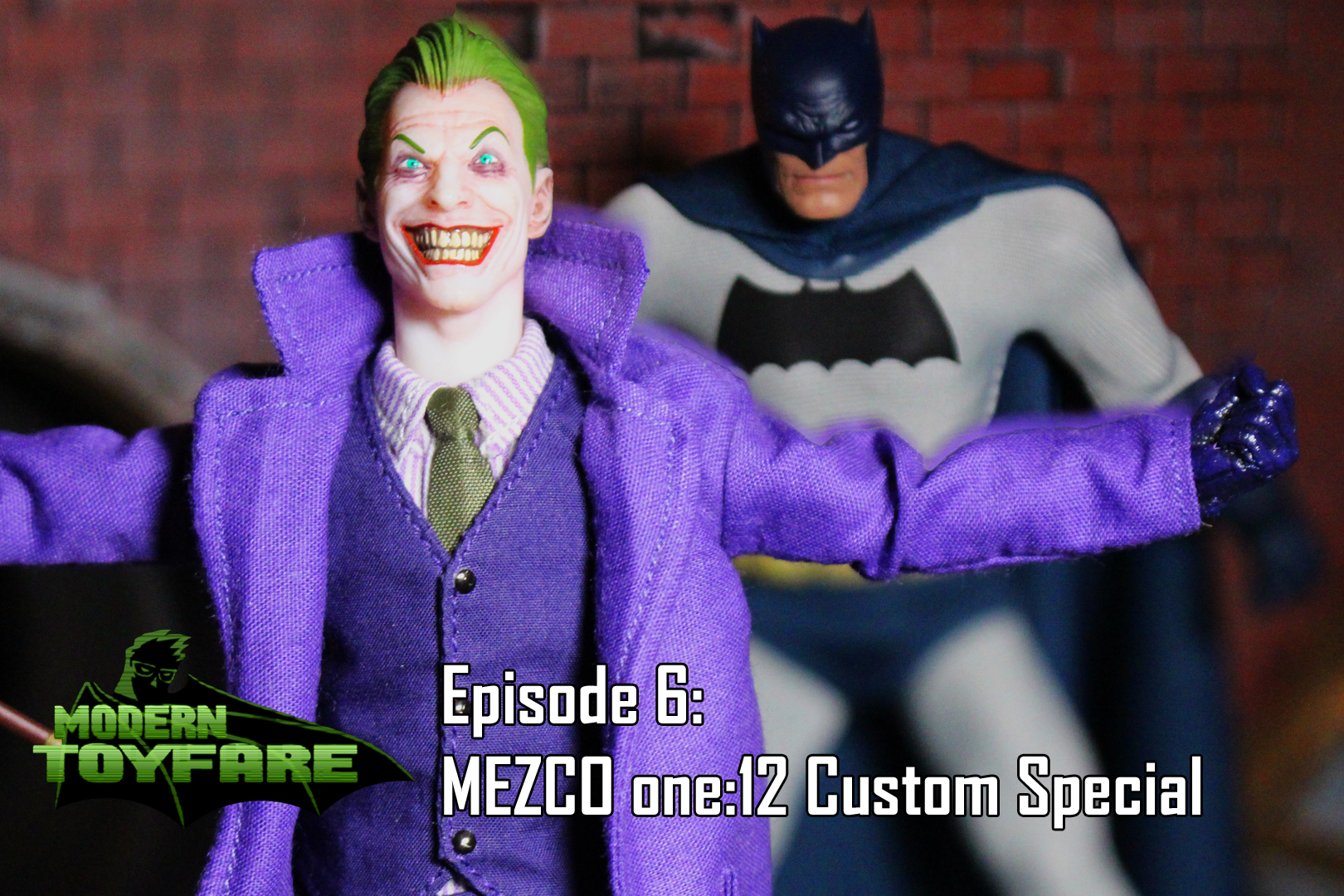 "While working on my different reviews for Modern Toyfair, I decided I wanted to put a spot light on the different customizers who put so much hard work into alternative clothing and head sculpts. CJESIM was an easy first pick to review simply because I absolutely loved the trench coat he did for the Mezco one:12 Joker. The detail and simplicity of his work is just phenomenal."
Photographer: @cultofgresser / @mediajunkievids